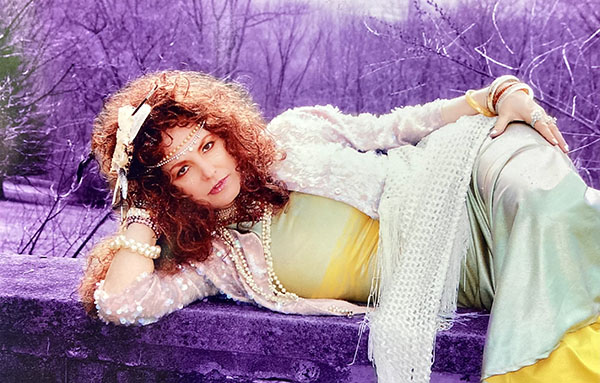 Lalainya
Lalainya's explosive contemporary vision is to grab the spirit of joy and pain of subjects on a many dimensional level. Complete freedom of materials working towards a sparkling world is the key objective. Capturing mystery, playfulness, intensity, and the false glamour and complexity of our technological society. Some images are from another surreal, spiritual level.
Lalainya is an artist with an unbounded depth of creative expression. Her work can be categorized in the visionary genre, every painting an expression of her turbulent energy, at ease with the trappings of convention
She displayed an artistic Talent early in her childhood years and in maturity has continued to use a wide range of materials to make her art. She was an orphan, and artistic expression was the method she chose to realize a purpose for her being, encouraged by her adoptive parents to pursue her growing creative vision.
At the age of fourteen she decided to commit to a spiritual path that has guided her to this day, a way of life that treasures our humanity, the beauty and pain of it, and an individual expression that reflects upon the dichotomies of life.
The mass-media that feeds our culture has been illuminated by Lalainya's paintings if only to bring attention to the tragic ends met by some of the icons of the stage and the Silver Screen – Jimi Hendrix, and Marilyn Monroe, and to certify for viewers the glittering glamour that they personified. These portraits expand into a scintillating movement of light that is far from ordinary.
Equally intensified for us are subjects of a more mundane nature – domesticated animals and down-home Americana, all rendered with painted color and an assortment of early 20th century Art Deco jewelry, semi-precious stones, and a wide array of overlooked household accessories. Her paintings on canvas are composed of not only paint, but also gemstones, feathers, and oddly assorted objects that truly challenge the description of "mixed media." She has also decorated a car as a moving memorial of the events of 9-11 and a tribute to American freedom.
Viewing the art created by Lalainya, one is reminded of the Found-Art craft, in this case delivered with colorful chaos, items tenderly arranged by her into the statement of the Visionary. Unlike anything else in the house, these works tempt you into looking closer. Look carefully and you will see not only the casually discarded accessories of life, but a larger vision of the world we make whole.
Primarily self-taught, Lalainya has studied art at Parsons School of Design, the Art Students League of New York, the Ridgewood Art Institute, and St. Petersburg College. She has also traveled abroad to Europe and Asia to immerse herself in the art and culture of these parts of the world.